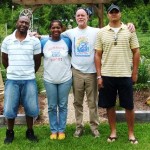 We are a small farm and do everything ourselves. That means that when you order from us, Steph and I have grown the seedling or tree (or made the wreath) and then we have chosen the product and packed it for you. We made the shipping label and collected your money. We think that our personal touch in doing everything ourselves at least makes us different, and better, than many other farms and businesses.
We are only trying to make as much money as is necessary to sustain our farm. That means you will find that our prices are more reasonable than other sources and that we don't make extra money through our shipping fees. It also means that our web site may not be as fancy as those of our competitors, because that too we try to maintain as reasonably as possible.
If you need a certain number of seedlings or a certain sized wreath or Christmas tree, we will do our best to give you what you want. Being small makes us able to meet the needs of the customer.
We ship our goods year around. If you need seedlings in January or a Christmas tree in June, we will send them, weather permitting.
We are open Tuesday thru Sunday 9 AM to 4 PM for choose and cut Christmas tree and wreath sales.  After December 21st please call us for an appointment.