Evergreen tree and seedling descriptions
We presently grow 18 species from seed in our greenhouse  and are going to experiment with a few more in future years.  The seed all comes from highly reputable sources. The different species of  seedlings we grow are listed just below.
Balsam fir, Fraser fir and Canaan fir.  We will have some Turkish fir for sale in 2018.
Douglas fir (not a true fir like the ones above).
Blue spruce, Norway spruce, White spruce, Meyer spruce and  Black Hills spruce.
White pine, Ponderosa pine, Austrian pine, Southwestern white pine and Red pine.
White cedar (also known as arborvitae) and red cedar.
Arizona cypress.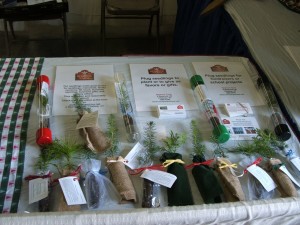 Evergreen seedling packaging
Link to evergreen seedling sales: https://www.christmastrees.net/shop/index.php?l=product_list&c=73