Our 2015 crop of evergreen seedlings has been moved outside to the shade structure and the greenhouse has been swept down, deep cleaned, power washed and sanitized in preparation for starting the 2016 crop.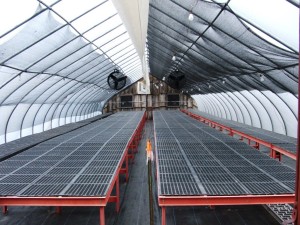 SUPER CLEAN GREENHOUSE
The next step is to change the outer layer of greenhouse plastic.  That will take all day on (most hopefully) a wind free day. (those are rare here)
Then we will begin filling about 1500 plug trays with growing media and the seedling of every hole…that will take a couple weeks.    Usually we are able to start germinating the new crop around the beginning of July.  More than 100,000 will be started.
We get two growing seasons in a year by starting our seed in July-one from July thru September and another from March to June the following spring.
The seedling business has been very, very good to us and we continue to grow more every year due to demand.  because of that we need a bigger shade structure, but figured out that our solar array will work as one!