Evergreen Nursery and Christmas Tree Farm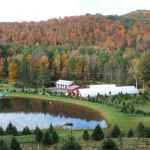 An Evergreen Nursery and Christmas Tree Farm, Redrock Farm grows and sells evergreen plug seedlings for use as favors and growing stock and Christmas trees on an environmentally friendly plantation. Our seedlings are grown from seed supplied by reliable sources and most go for use as wedding favors and Earth Day gifts as well as planting stock for farms or landscapes.
Christmas trees go to not only local families as choose and cut , but all over the country by internet order and FedEx Home Delivery.   2017 IS THE 27th YEAR THAT WE WILL HAVE BEEN SENDING CHRISTMAS TREES, WREATHS, DECORATIONS, AND ACCESSORIES TO EVERY STATE.  YOU WILL NOT FIND ANYONE WITH MORE EXPERIENCE SHIPPING CHRISTMAS TREES THAN US!
Our greenhouse nursery and transplant beds contain thousands of "baby" trees for future use as Christmas trees, reforestation, landscaping, weddings, business openings, and hundreds of other green uses.
Each spring in late April and early May, Rich and Steph plant several thousand  seedlings out in fields for future use as Christmas trees; at least one for every one harvested the year before.
Each June we take a crop of yearling plugs out of the greenhouse and start a new crop of around 100,000 trees from seed.
Since 1990, the Rockwood family has specialized helping families across the US enjoy the tradition of a freshly cut real tree and balsam fir wreath by shipping them by FEDEX to customer doorsteps across the USA.
Rich and Steph,  plant, fertilize, shear, and do all the other care for every tree in the fields. Each tree gets personal attention several times a year, and each is shaped to its own personality
Redrock Farm trees and wreaths annually win Blue ribbons at the Vermont Farm Show and the Tunbridge World's Fair, and have been the Vermont State Champion at the Eastern States Exposition (Big E)  seven times.
We carefully put trees up to 9 feet tall in wax-lined cartons and time their shipment to arrive when specified by the customer.
We pride ourselves in shipping ONLY premium trees that are freshly cut.
Link to our on line store: https://www.christmastrees.net/shop/index.php