Evergreen Nursery and Christmas Tree Farm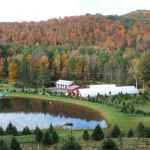 An Evergreen Nursery and Christmas Tree Farm, Redrock Farm grows and sells evergreen plug seedlings for use as favors and growing stock and Christmas trees on an environmentally friendly plantation. Our seedlings are grown from seed supplied by reliable sources and most go for use as wedding favors and Earth Day gifts as well as planting stock for farms or landscapes.
Christmas trees are raised not only for local families as choose and cut , but are shipped all over the country by internet order and FedEx Home Delivery.   2018 is the 28th year that we will ship Christmas trees, wreaths, decorations and accessories to every state.  You will not find anyone with more experience shipping Christmas trees than us!  That said, we are slowly winding down the Christmas tree side of our farm business.  At our age, seedlings are easier to handle and require less strenuous labor than Christmas trees.  We will be limiting the number we ship for a couple years and then turn the Christmas tree shipping over to some younger farmers.  We are presently in search of those "youngers" who will be rewarded with shipping beautiful Christmas trees to our many fine customers that we have accumulated over the years.
Since 1990, the Rockwood family has specialized helping families across the US enjoy the tradition of a freshly cut real tree and balsam fir wreath by shipping them by FEDEX to customer doorsteps across the USA.
Each spring in late April and early May, Rich and Steph plant seedlings and transplants out in fields for future use as Christmas trees; at least one for every one harvested the year before. Here again, we are going to slow that down, concentrating more on growing fine evergreen seedlings.
Our greenhouse nursery and transplant beds contain thousands of "baby"  evergreen trees for future use as Christmas trees, reforestation, landscaping, weddings, business openings, and hundreds of other green uses.
In late spring we take a crop of yearling plugs out of the greenhouse and start a new crop of more than 100,000 evergreens from seed.
We ship our evergreen plug seedlings all over the United States and ship them to arrive when you wish.  Yes, we ship them in winter too but keep in mind that caring for them is more difficult during winter unless you live where the ground isn't frozen.  Plugs can be put in the ground just about anytime with less shock than a bare root seedling, but they will always need moisture in that ground.
Rich and Stephanie (Rockwood) do all the work on their scenic Redrock Farm, from planting, seeding, fertilizing, mowing, weeding, shearing, harvesting, boxing, labeling and all the other hundreds of tasks. They alone are responsible for the tree or seedlings you receive and are the only ones who will answer the phone or your email.  They pride themselves in the personal touch of doing things themselves.  Their biggest headaches often occur when things are out of their control, like in transit or on a delivery truck…keep in mind that they cannot control that!  But they will ship your order with the intent of it arriving when you ask for it!
Link to our on line store: https://www.christmastrees.net/shop/index.php